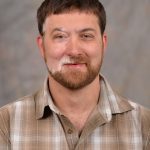 Benjamin Harlow
DSE Senior Technical Engineer
As Senior Technical Engineer at the DSE, Mr. Harlow is particularly interested in the capacity for real-time experimental manipulation at levels never seen before in soil science, ecology or other ecotrons. There are many critical systems required to support these experiments, ranging from chilled water supply, optical detectors and interfacing where Ben is excited to put all of his skills to work.
Ben has a strong background with environmental measurements and the instrumentation that provides such data. Ben developed a successful Stable Isotope Analysis Facility at Washington State University where he was lab manager for 17 years before joining the DSE team in 2022. He has expertise in designing and developing research methodologies, data analysis and database management, ensuring quality control, and diagnosis/repair of specialized equipment. Thinking about all the details that go into measurements, data, and analytical systems are areas that Ben takes seriously. He has created new solutions to research questions through customization, fabrication, and collaboration which will be most valuable at the DSE.
When not keeping ecotrons running, Ben enjoys working on his small hobby farm or partaking in a range of outdoor activities, regardless of the season.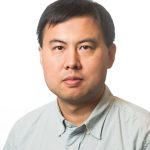 Zeli Tan
Earth Scientist, Pacific Northwest National Laboratory
As the Co-PI of the DSE, Dr. Tan is particularly interested in improving the treatment of Earth system models (ESMs) to deep soil carbon cycling based on the discoveries from the unique DSE facilities. Currently, ESMs deal with carbon cycling in deep soils the same way as that in surface soils. I will first use the DSE data to understand the potential model biases and then develop new methods for modeling deep soil carbon cycle. Besides the cool facilities, I am very excited to learn from and work with the great field and lab scientists in the team.
Zeli has a strong background with Earth system modeling and currently uses ESMs to study the role of land-river-ocean interactions in the global carbon cycle. Zeli developed a 1-D process-based lake biogeochemistry model for quantifying lake methane emissions. He also developed a soil erosion model in DOE's E3SM model to estimate sediment, C, N and P fluxes from land to rivers and oceans. Dr. Tan also has expertise in coastal wetland eco-geomorphology and has introduced a multi-algorithm approach to reduce the uncertainty of coastal wetland eco-geomorphology models. Recently, Zeli started to study how to use emerging artificial intelligence techniques to improve ESMs.
When not working, Zeli enjoys reading books, watching movies and playing with his two kids.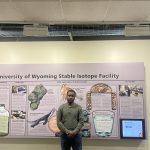 Emmanuel T. Komolafe
University: University of Wyoming
Program: PhD
Advisor: Prof. David G. Williams
Emmanuel Komolafe holds both a Bachelor's and a master's degree in Botany and Plant Ecology, earned at Obafemi Awolowo University, Nigeria. Currently pursuing his Ph.D. at the University of Wyoming, Emmanuel is a dedicated and passionate researcher. As a Ph.D. student in the Deep Soil Ecology program, he plays a pivotal role in unlocking the mysteries of soil dynamics and ecosystem processes at the cutting-edge Deep Soil Ecotron (DSE).
Emmanuel's profound interest lies in understanding the intricate gems of deep soil environments for the future of Climate and agriculture. His research is driven by a deep commitment to advancing soil biogeochemistry. Beyond his academic pursuits, Emmanuel is a nature enthusiast and a staunch advocate for environmental sustainability, actively promoting eco-friendly practices.
Emmanuel Komolafe exemplifies the fusion of academic rigor and environmental advocacy, making significant strides in unraveling the secrets of soil ecosystems while contributing to a greener, more sustainable planet.